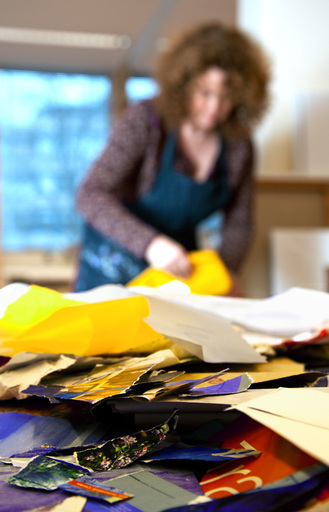 Els van Lieshout was born in 1962 on the Veluwe (Holland).
"Drawing was common pastime at our house. My mother also studied at the Royal Academy of Art in The Hague. Drawing material was therefore always available. My grandfather started painting once he was retired. He adored the work of the old masters of painting. I loved the smell of oil paint, wood and stucco in his house at the Parallelweg in The Hague. When I was in high school, my friend and I used to do a lot of charcoal portraying."
Els van Lieshout studied at the Royal Academy of Art in The Hague from 1999 till 2004.
"It wasn't until 1999 that I had the conviction and the spare time to go to the Art Academy. I attended evening classes in Graphic Design. Joyfully I went to the Prinsessegracht for five years, four times a week. That is where I realized I liked autonomous art far better than reproducible designs. Characters are beautifully used for their shape, their meaning is inferior. I also found out that collage techniques offer me so many possibilities and I still feel that way."
Els van Lieshout has lived and worked as an artist in Rijswijk since 2007.
"Once I started working on a professional basis, it meant a huge step in my development as an artist. Considering myself as an admirer of nature, I did however discover how very much I was inspired by city life and scenery. It's not only the city itself that fascinates me, but also the people living in that city. In some of my creations I project parts of human bodies, simply because there is no space in the city for complete people. Man is cut up in my collages. Since 2009 I have been working at my studio in Plaspoelpolder. This place brings me a lot of inspiration and ideas."