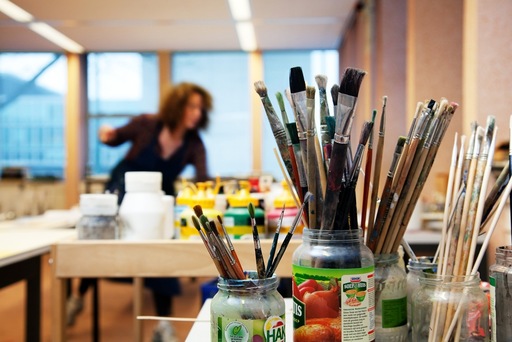 Welcome to the website of Els van Lieshout.
Els van Lieshout is a visual artist. She participated in the programme of Fine Arts at the Royal Academy of Art in The Hague
"I am inspired by structured chaos to be found in the streets of metropolises such as Rotterdam, Berlin and New York. Sceneries of construction sites, industrial architecture, surroundings of big ports. I travel to capture images (pictures and sketches) of cities and to inhale the atmosphere. All these crossing lines of buildings, catenaries, zebras, paving stones, rails, lampposts, road signs, poles, fences, windows, advertisement, scaffolding, cut up pieces of sky: that is what I like."
Els van Lieshout makes contemporary collages, made of paper fragments, combined with drawings and paintings. Every collage is unique. The carrier of the artwork is MDF or canvas. The collages are all professionally framed.
"I mostly work with fragments taken from magazines and paper I paint myself. Because of the multiple layers and the many details, the collages keep revealing new insights. The combination of magazine fragments and painted images remains fascinating in my opinion. I experiment with different sorts of paper and I am constantly seeking for inspiring basic material. I could not waste a single piece of paper."